Last Updated on August 24, 2020
Mukesh Dhirubhai Ambani is an Indian billionaire business magnate, and the chairman, managing director, and largest shareholder of Reliance Industries Ltd. (RIL), a Fortune Global 500 company and India's most valuable company by market value.[5] He is currently the richest man in Asia with a net worth of US$79.2 billion and as of 16 August 2020 he is listed on Forbes as the 6th richest person in the world
Born
Mukesh Dhirubhai Ambani
19 April 1957 (age 63)
Aden, Colony of Aden
(present-day Yemen)
Nationality
Indian
Alma mater
St. Xavier's College, Mumbai;
Institute of Chemical Technology (B.E.);
Stanford University (drop-out)
Occupation
Chairman and MD, Reliance Industries
Net worth
US$81.6 billion (28 July 2020)
Spouse(s)
Nita Ambani (m. 1985)
Children
2 sons and 1 daughter
Parent(s)
Dhirubhai Ambani (father)
Kokilaben Ambani (mother)
Relatives
Anil Ambani (brother)
Tina Ambani (sister-in-law)
Early life
Mukesh Dhirubhai Ambani was born on 19 April 1957 in the British Crown colony of Aden (in present-day Yemen) to Dhirubhai Ambani and Kokilaben Ambani. He has a younger brother Anil Ambani and two sisters, Nina Bhadrashyam Kothari and Dipti Dattaraj Salgaocar.
Ambani lived only briefly in Yemen because his father decided to move back to India in 1958to start a trading business that focused on spices and textiles. The latter was originally named "Vimal" but later changed to "Only Vimal." His family lived in a modest two-bedroom apartment in Bhuleshwar, Mumbai until the 1970s, The family's financial status slightly improved when they moved to India but Ambani still lived in a communal society, used public transportation, and never received an allowance. Dhirubhai later purchased a 14-floor apartment block called 'Sea Wind' in Colaba, where, until recently, Ambani and his brother lived with their families on different floors.
Education
Ambani attended the Hill Grange High School at Peddar Road, Mumbai, along with his brother and Anand Jain, who later became his close associate. After his secondary schooling, he studied at the St. Xavier's College, Mumbai. He then received a BE degree in Chemical Engineering from the Institute of Chemical Technology.
Ambani later enrolled for an MBA at Stanford University but withdrew in 1980 to help his father build Reliance, which at the time was still a small but fast-growing enterprise. His father felt that real-life skills were harnessed through experiences and not by sitting in a classroom, so he called his son back to India from Stanford to take command of a yarn manufacturing project in his company.
Ambani has been quoted as saying that he was influenced by his teachers William F. Sharpe and Man Mohan Sharma because they are "the kind of professors who made you think out of the box."[
Career
In 1981 he started to help his father Dhirubhai Ambani run their family business, Reliance Industries Limited. By this time, it had already expanded so that it also dealt in refining and petrochemicals. The business also included products and services in retail and telecommunications industries. Reliance Retail Ltd., another subsidiary, is also the largest retailer in India. Reliance's Jio has earned a top-five spot in the country's telecommunication services since its public launch on 5 September 2016.
As of 2016, Ambani was ranked 38 and has consistently held the title of India's richest person on Forbes magazine's list for the past ten years. He is the only Indian businessman on Forbes' list of the world's most powerful people. As of January 2018, Mukesh Ambani was ranked by Forbes as the 18th-wealthiest person in the world. He surpassed Jack Ma, executive chairman of Alibaba Group, to become Asia's richest person with a net worth of $44.3 billion in July 2018. He is also the wealthiest person in the world outside North America and Europe. As of 2015, Ambani ranked fifth among India's philanthropists, according to China's Hurun Research Institute. He was appointed as a Director of Bank of America and became the first non-American to be on its board.
Through Reliance, he also owns the Indian Premier League franchise Mumbai Indians and is the founder of Indian Super League, a football league in India. In 2012, Forbes named him one of the richest sports owners in the world. He resides at the Antilia Building, one of the world's most expensive private residences with its value reaching $1 billion.
Board memberships
Member of Board of Governors Institute of Chemical Technology, Mumbai
Chairman, managing director, Chairman of Finance Committee and Member of Employees Stock Compensation Committee, Reliance Industries Limited
Former chairman, Indian Petrochemicals Corporation Limited
Former vice-chairman, Reliance Petroleum
Chairman of the board, Reliance Petroleum
Chairman and Chairman of Audit Committee, Reliance Retail Limited.
Chairman, Reliance Exploration and Production DMCC
Former Director, Member of Credit Committee and Member of Compensation & Benefits Committee, Bank of America Corporation
President, Pandit Deendayal Petroleum University, Gandhinagar, Gujarat
Awards and honors
| Year of Award or Honor | Name of Award or Honor | Awarding Organization |
| --- | --- | --- |
| 2000 | Ernst & Young Entrepreneur of the Year | Ernst & Young India |
| 2010 | Global Vision Award at The Awards Dinner | Asia Society |
| 2010 | Business Leader of the Year | NDTV India |
| 2010 | Businessman of the Year | Financial Chronicle |
| 2010 | School of Engineering and Applied Science Dean's Medal | University of Pennsylvania |
| 2010 | ranked 5th-best performing global CEO | Harvard Business Review |
| 2010 | Global Leadership Award | Business Council for International Understanding |
| 2010 | Honorary Doctorate (Doctor of Science) | M. S. University of Baroda |
| 2013 | Millennium Business Leader of the Decade at Indian Affairs India Leadership Conclave Awards 2013) | India Leadership Conclave & Indian Affairs Business Leadership Awards |
| 2016 | Foreign associate, U.S. National Academy of Engineering | National Academy of Engineering |
| 2016 | Othmer Gold Medal | Chemical Heritage Foundation |
Personal life
He married Nita Ambani in 1985 and they have two sons; Anant and Akash, and a daughter, Isha. They met after his father attended a dance performance which Nita took part in and thought of the idea of arranging a marriage between the two.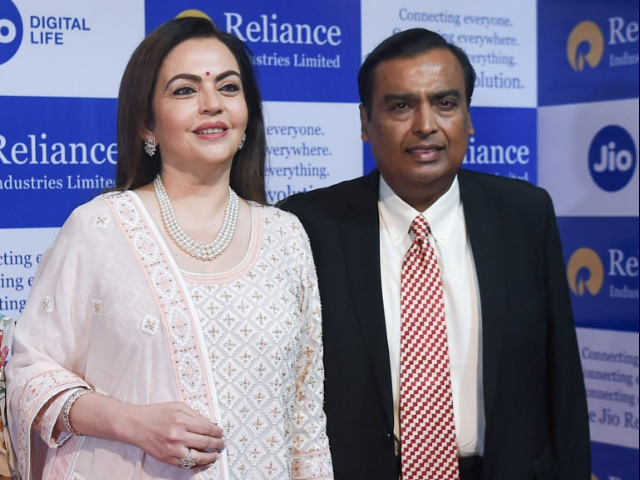 They live in Antilia, a private 27-storey building in Mumbai, which was valued at US$1 billion and was the most expensive private residence in the world at the time it was built. The building requires a staff of 600 for maintenance, and it includes three helipads, a 160-car garage, private movie theater, swimming pool, and fitness center.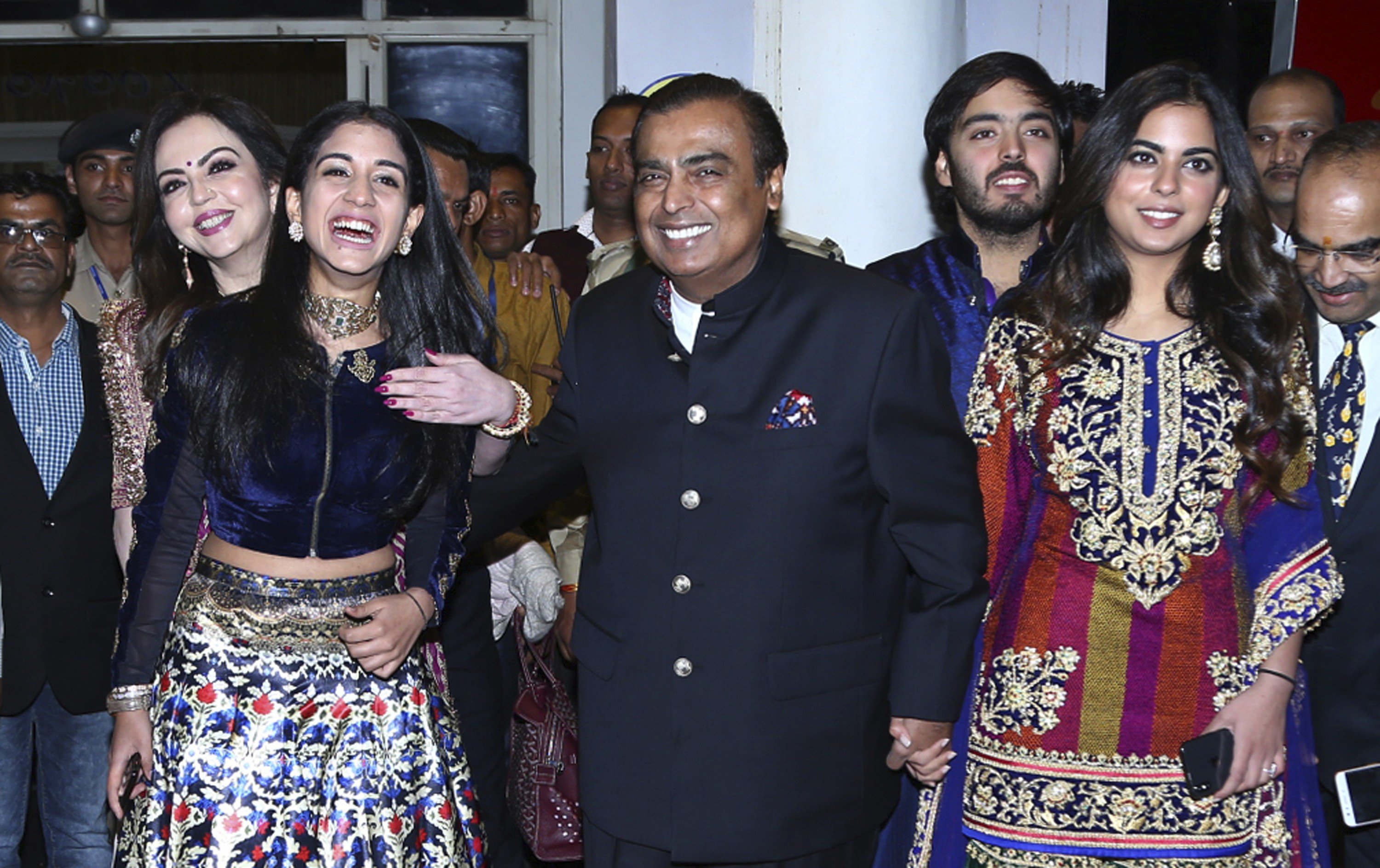 In 2007, Ambani gifted his wife a $60 million Airbus A319 for her 44th birthday. The Airbus, which has a capacity of 180 passengers, has been custom-fitted to include a living room, bedroom, satellite television, WiFi, sky bar, Jacuzzi, and an office.
Ambani was titled "The World's Richest Sports Team Owner" after his purchase of the IPL cricket team Mumbai Indians for $111.9 million in 2008.
In an interview with Rajdeep Sardesai in March 2017, he said that his favourite food continued to be idli sambar and his favourite restaurant remains Mysore Café, a restaurant in Kings circle (Mumbai) where he used to eat as a student at UDCT. Mukesh Ambani is a strict vegetarian and teetotaler. He is a very big fan of Bollywood movies, watching three a week because he says "you need some amount of escapism in life."
During the fiscal year ending 31 March 2012, he reportedly decided to forgo nearly ₹240 million from his annual pay as chief of Reliance Industries Ltd (RIL). He elected to do this even as RIL's total remuneration packages to its top management personnel increased during that fiscal year. Mukesh Ambani holds a 44.7% stake in the company.This move kept his salary capped at ₹150 million for the fourth year in a row.
In early 2019, a court in Mumbai held his younger brother, Anil Ambani, in criminal contempt for non-payment of personally guaranteed debt Reliance Communications owed to Swedish gearmaker Ericsson. Instead of jail time, the court gave Anil a month to come up with the funds. At the end of the month, Mukesh bailed out his younger brother, paying the debt.