Last Updated on August 24, 2020
Kumar Mangalam Birla  is an Indian billionaire industrialist, and the chairman of the Aditya Birla Group, one of the largest conglomerates in India. He is also the chancellor of the Birla Institute of Technology & Science and the chairman of the Indian Institute of Technology Delhi and Indian Institute of Management Ahmedabad.
Born
14 June 1967 (age 53)
Kolkata, West Bengal, India
Nationality
Indian
Alma mater
H.R. College of Commerce and Economics
Sydenham College of Commerce and Economics
Institute of Chartered Accountants of India (CA)
London Business School (MBA)
Net worth
US$9.6 billion (May 2020)
Title
Chairman, Aditya Birla Group and Vodafone Idea Limited
Spouse(s)
Neerja Birla (m. 1989)
Children
3, including Ananya Birla and Aryaman Birla
Parent(s)
Aditya Vikram Birla

Early life and education
Birla is a fourth-generation member of the Marwari Birla family from the state of Rajasthan.[5] He was born in Kolkata and raised in Mumbai He did his high school from Sydenham College of Commerce and Economics and a bachelor's degree from H.R. College of Commerce and Economics of the University of Mumbai, and a MBA degree from London Business School, where he is an honorary fellow. He is also a Chartered Accountant from Institute of Chartered Accountants of India (ICAI).
Career
Birla took over as chairman of the Aditya Birla Group in 1995, at the age of 28, following the death of his father Aditya Vikram Birla. During his tenure as chairman, the group's annual turnover has increased from US$3.33 Billion in 1995 to US$48.3 billion in 2019.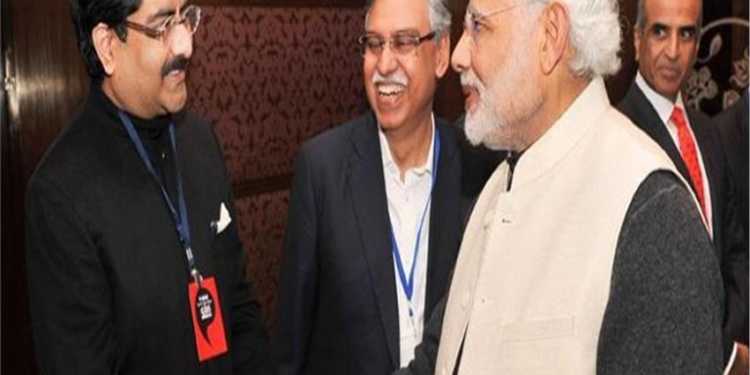 Birla has received several awards, including the International Advertising Association's "CEO of the Year Award" in 2016; the US India Business Council's "Global Leadership Award" in 2014; Economic Times "Business Leader Award" in 2003 and 2013; Forbes India Leadership Award – Flagship Award "Entrepreneur of the Year 2012; NDTV Profit Business Leadership Awards 2012, "Most Inspiring Leader"; CNBCTV18 IBLA "Business Leader for Taking India Abroad 2012"; CNN-IBN "Indian of the Year Award 2010"; JRD Tata "Leadership Award 2008"; NDTV's "Global Indian Leader of the Year 2007"
An educationist, Birla is the Chancellor of Birla Institute of Technology & Science (BITS). He is chairman of IIT Delhi, IIM Ahmedabad and chairman of Rhodes India Scholarship Committee for Oxford University. He serves on London Business School's Asia Pacific Advisory Board and is an honorary fellow of the London Business School
Mr. Kumar Mangalam Birla is the Chairman of the Aditya Birla Group.
He chairs the Boards of all of the Group's major companies in India and globally. Among its clutch of companies globally feature Novelis, Columbian Chemicals, Aditya Birla Minerals, Aditya Birla Chemicals, Thai Carbon Black, Alexandria Carbon Black, Domsjö Fabriker and Terrace Bay Pulp Mill. In India, he chairs the Boards of Hindalco, Grasim, UltraTech, Vodafone Idea and Aditya Birla Capital Limited.
The Group's businesses are spread across a swath of industries. These include aluminium, copper, cement, textiles (pulp, fibre, yarn, fabric and branded apparel), carbon black, insulators, natural resources, solar power, agribusiness, telecommunications, financial services, retail and trading.
Business record
Mr. Birla took over as Chairman of the Group in 1995, at the age of 28, after the untimely demise of his father. As Chairman, Mr. Birla has taken the Aditya Birla Group to an altogether higher growth trajectory. In the 24 years that he has been at the helm of the Group, he has accelerated growth, built a meritocracy and enhanced stakeholder value.
In the process, he has raised the Group's turnover from US$ 2 billion in 1995, to US$ 48.3 billion today. Mr. Birla has restructured the businesses to emerge as a global/national leader in the sectors in which the Group operates.  He has made over 40 acquisitions in 20 years in India and globally, the highest by an Indian multinational in India.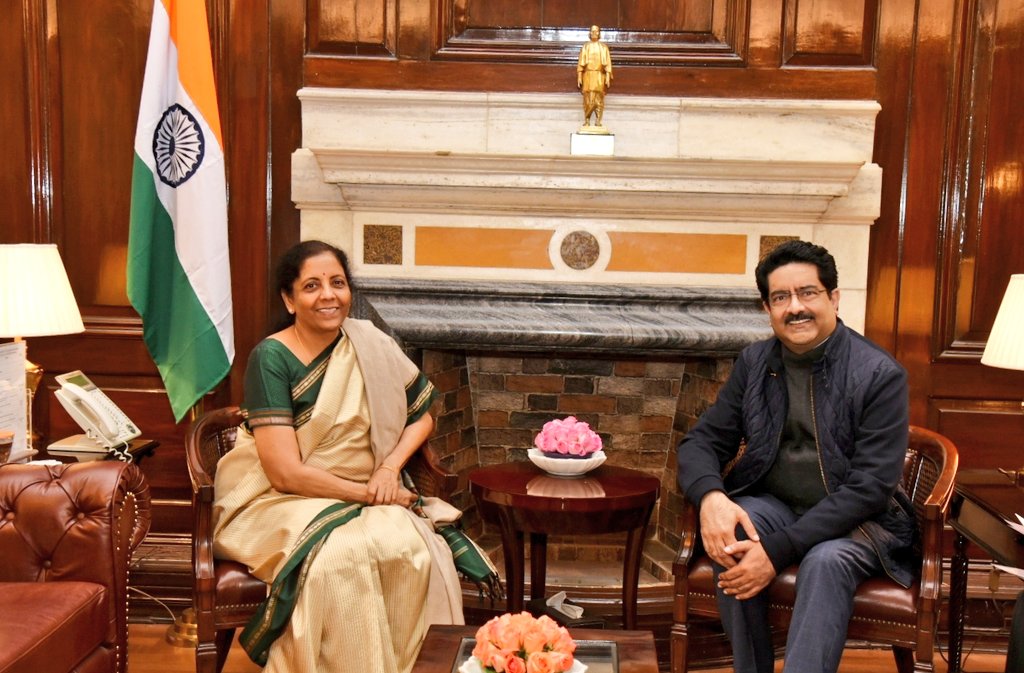 The acquisition of Novelis, a global metals major, in 2007, the second largest acquisition ever by an Indian company, led to a new found respect for Indian companies and stoked a higher level of interest in the country as well. The subsequent acquisition of Columbian Chemicals, a US based company and the world's 3rd largest carbon black manufacturer positioned the Group as the No. 1 player in this sector, given its own sizeable carbon black operations today. Likewise, the acquisition of Domsjö Fabriker, a leading Swedish speciality pulp manufacturer enables the Group's Pulp and Fibre business to further consolidate its global position. The acquisition of CTP GmbH – Chemicals & Technologies for Polymers in Germany was yet another milestone acquisition.
Recently, Mr. Birla through Novelis, our Group company, had bid for Aleris, a US major metals company for a consideration of 2.6 billion dollars.
Besides these, over the years Mr. Birla has acquired manufacturing plants in Canada, China, Indonesia and mines in Australia, set up new plants in Egypt, Thailand and China. Alongside, he has expanded capacities in all of the Group's manufacturing units.
In India as well, he has made major acquisitions, among which feature (a selective list) Jaypee Cement plants, Binani Cement, Cement division of Larsen & Toubro, Indal from Alcan, Madura Garments from Coats Viyella, the Chlor Alkali division of Kanoria Chemicals and Solaris Chemtech Industries.
The most recent merger of Vodafone and Idea engineered by Mr. Birla has created the largest telecom operator in India and the world's second largest player.
Under his stewardship, the Aditya Birla Group enjoys a position of leadership in all the major sectors in which it operates. Over the years, Mr. Birla has built a highly successful meritocratic organization, anchored by an extraordinary force of 120,000 employees belonging to 42 different nationalities. The Aditya Birla Group has been ranked 4th in the world and 1st in Asia Pacific in the 'Top Companies for Leaders' study 2011, conducted by AON Hewitt, Fortune Magazine and RBL (a strategic HR and leadership Advisory firm). The Group has topped Nielsen's Corporate Image Monitor 2014-15 and emerged as the Number 1 corporate, the 'Best in Class', for the third successive year. The Group won yet again the coveted recognition of 'The Best Employers to work for in India' by AON – Hewitt in 2018.
In key responsible positions on various regulatory bodies
Mr. Birla holds several key positions on various regulatory and professional Boards. He was a Director on the Central Board of Directors of the Reserve Bank of India. He was Chairman of the Advisory Committee constituted by the Ministry of Company Affairs and also served on The Prime Minister of India's Advisory Council on Trade and Industry.
As the Chairman of Securities and Exchange Board of India (SEBI) Committee on Corporate Governance, he authored the First Report on Corporate Governance titled ''Report of the Kumar Mangalam Birla Committee on Corporate Governance''. Its recommendations were path breaking and became the basis of corporate governance norms. Furthermore, as the Convener of the Prime Minister's Task Force on Administrative and Legal Simplifications, the extensive recommendations made by him in his report, have been implemented in totality. Mr. Birla also served as Chairman of SEBI's committee on Insider Trading, which formulated Corporate Governance principles for Indian corporates.
He is on the National Council of the Confederation of Indian Industry and the Apex Advisory Council of the Associated Chambers of Commerce and Industry of India.