Last Updated on August 27, 2020
Arvind Kejriwal (born 16 August 1968) is an Indian politician and a former bureaucrat who is the current and 7th Chief Minister of Delhi since February 2015. He was also the Chief Minister of Delhi from December 2013 to February 2014, stepping down after 49 days of assuming power. Currently, he is the national convener of the Aam Aadmi Party, which won the 2015 Delhi Assembly elections with a historic majority, obtaining 67 out of 70 assembly seats. In 2006, Kejriwal was awarded the Ramon Magsaysay Award for Emergent Leadership in recognition of his involvement in the grassroots level movement Parivartan using right to information legislation in a campaign against corruption. The same year, after resigning from Government service, he donated his Magsaysay award money as a corpus fund to found the Public Cause Research Foundation, a non-governmental organisation (NGO).
Born
16 August 1968 (age 52)
Haryana, India
Political party
Aam Aadmi Party
Spouse(s)
Sunita Kejriwal (m. 1995)
Children
Harshita Kejriwal and Pulkit Kejriwal
Residence
New Delhi, India
Alma mater
IIT Kharagpur (B.Tech)
Profession
Activist, Politician
Known for
India Against Corruption
Jan Lokpal Bill
Awards
Ramon Magsaysay Award
Before joining politics, Kejriwal had worked in the Indian Revenue Service as a Joint Commissioner of Income Tax in New Delhi. Kejriwal is a graduate in Mechanical engineering from Indian Institute of Technology (IIT) Kharagpur. In 2012, he launched the Aam Aadmi Party, which won in the 2013 Delhi Legislative Assembly election. Following the election, he took office as the Chief Minister of Delhi on 28 December 2013. He resigned 49 days later, on 14 February 2014, stating he did so because of his minority government's inability to pass his proposed anti-corruption legislation due to a lack of support from other political parties On 14 February 2015, he was sworn in as Chief Minister for a second term after his party's victory in the Delhi Legislative Assembly election.
Early life and education
Kejriwal was born in an upper middle-class educated Agrawal family in Siwani, Bhiwani district, Haryana on 16 August 1968, the first of the three children of Gobind Ram Kejriwal and Gita Devi. His father was an electrical engineer who graduated from the Birla Institute of Technology, Mesra. Kejriwal spent most of his childhood in north Indian towns such as Sonipat, Ghaziabad and Hisar. He was educated at Campus School in Hisar and at a Christian missionary Holy Child School at Sonipat.
In 1985, he took the IIT-JEE exam and scored All India Rank (AIR) of 563. He graduated from Indian Institute of Technology Kharagpur, majoring in Mechanical engineering. He joined Tata Steel in 1989 and was posted in Jamshedpur. Kejriwal resigned in 1992, having taken leave of absence to study for the Civil Services Examination. He spent some time in Calcutta (present-day Kolkata), where he met Mother Teresa, and volunteered with The Missionaries of Charity and at the Ramakrishna Mission in North-East India and at Nehru Yuva Kendra.
Career
Arvind Kejriwal joined the Indian Revenue Service (IRS) as an Assistant Commissioner of Income Tax in 1995, after qualifying through the Civil Services Examination. In November 2000, he was granted two years' paid leave to pursue higher education on condition that upon resuming his work he would not resign from the Service for at least three years. Failure to abide by that condition would require him to repay the salary given during the leave period. He rejoined in November 2002. According to Kejriwal, he was not given any posting for almost a year, and kept getting his salary without doing any work; so, after 18 months, he applied for leave without pay. For the next 18 months, Kejriwal was on sanctioned unpaid leave. In February 2006, he resigned from his position as Joint Commissioner of Income Tax in New Delhi. The Government of India claimed that Kejriwal had violated his original agreement by not working for three years. Kejriwal said that his 18 months of work and 18 months of unpaid absence amounted to the stipulated three-year period during which he could not resign and that this was an attempt to malign him due to his involvement with the Indian anti-corruption movement. The dispute ran for several years until, in 2011, it was resolved when he paid his way out of the Service with the help of loans from friends. Kejriwal paid ₹ 927,787 as dues, but stated that this should not be considered as an admission of fault.
After joining politics, Kejriwal claimed in 2013 that he had chosen public service over earning crores as an Income Tax Commissioner. This led to a controversy, with the IRS association pointing out that he has never been promoted to the rank of Commissioner of Income Tax.
Jan Lokpal movement
Main article: 2011 Indian anti-corruption movement
In 2010, Kejriwal protested against corruption in the Commonwealth Games. He argued that the Central Vigilance Commission (CVC) did not have any powers to take any action against the guilty, while CBI was incapable of launching an unbiased investigation against the ministers who controlled it. He advocated appointment of public ombudsman – Lokpal at the Centre and Lokayuktas in states.
In 2011, Kejriwal joined several other activists, including Anna Hazare and Kiran Bedi, to form the India Against Corruption (IAC) group. The IAC demanded enactment of the Jan Lokpal Bill, which would result in a strong ombudsman. The campaign evolved into the 2011 Indian anti-corruption movement. In response to the campaign, the government's advisory body – the National Advisory Council – drafted a Lokpal Bill. However, the NAC's Bill was criticised by Kejriwal and other activists on the grounds that it did not have enough powers to take action against the prime minister, other corrupt officeholders and the judiciary. The activists also criticised the procedure for selection of Lokpal, the transparency clauses and the proposal to disallow the Lokpal from taking cognisance of public grievances.
Amid continuing protests, the Government constituted a committee to Draft a Jan Lokpal Bill. Kejriwal was one of the civil society representative members of this committee. However, he alleged that the IAC activists had an unequal position in the committee, and the government appointees kept ignoring their recommendations. The Government argued that the activists could not be allowed to blackmail the elected representatives through protests. Kejriwal retorted that democratically elected representatives could not be allowed to function like dictators, and asked for a public debate on the contentious issues.
The IAC activists intensified their protests, and Anna Hazare organised a hunger strike. Kejriwal and other activists were arrested for defying a police directive to give a written undertaking that they will not go to JP Park. Kejriwal attacked the government on this and said there was a need for a debate over police power to detain and release people at will. In August 2011, a settlement was reached between the Government and the activists.
Besides the government, the Jan Lokpal movement was also criticised by some citizens as 'undemocratic' on the grounds that the ombudsman had powers over elected representatives. Arundhati Roy claimed that the movement was not a people's movement; instead, it was funded by foreigners to influence policy making in India. She pointed out that the Ford Foundation had funded the Emergent Leadership category of the Ramon Magsaysay Award, and also donated $397,000 to Kejriwal's NGO Kabir. Both Kejriwal and Ford Foundation termed the allegations as baseless, stating that the donations were made to support the RTI campaigns. Besides, several other Indian organisations had also received grants from the Ford Foundation. Kejriwal also denied the allegations that the movement was a plot against the ruling Congress by the RSS, or that it was an upper-caste conspiracy against the Dalits.
By January 2012, the Government had backtracked on its promise to implement a strong Jan Lokpal, resulting in another series of protests from Kejriwal and his fellow activists. These protests attracted lower participation compared to the 2011 protests By mid-2012, Kejriwal had replaced Anna Hazare as the face of the remaining protestors.
In 2015 during the second term of AAP government in Delhi the Jan Lokpal Bill was passed by the assembly awaiting presidents approval
Political career
Establishment of AAP
Kejriwal during the launch of AAP in Bangalore, in July 2013
One of the major criticisms directed at the Jan Lokpal activists was that they had no right to dictate terms to the elected representatives. As a result, Kejriwal and other activists decided to enter politics and contest elections. In November 2012, they formally launched the Aam Aadmi Party; Kejriwal was elected as the party's National Convener. The party name reflects the phrase Aam Aadmi, or "common man", whose interests Kejriwal proposed to represent. The establishment of AAP caused a rift between Kejriwal and Hazare
AAP decided to contest the 2013 Delhi Legislative Assembly election, with Kejriwal contesting against the incumbent Chief Minister Sheila Dikshit. Kejriwal became the fifth most-mentioned Indian politician on social media channels in the run-up to the elections.
Chief Minister of Delhi (first term)
In the 2013, Delhi Legislative Assembly elections for all 70 seats, the Bharatiya Janata Party won 31 seats, followed by Aam Aadmi Party with 28 seats. Kejriwal defeated incumbent Chief Minister, Sheila Dikshit of the Indian National Congress (INC), in her constituency of New Delhi by a margin of 25,864 votes.
AAP formed a minority government in the hung assembly, (claiming support for the action gauged from opinion polls) with outside support from the eight INC MLAs, one Janata Dal MLA and one independent MLA. Kejriwal was sworn in as the second-youngest chief minister of Delhi on 28 December 2013, after Chaudhary Brahm Prakash who became chief minister at the age of 34. He was in charge of Delhi's home, power, planning, finance, services and vigilance ministries.
On 14 February 2014, he resigned as Chief Minister after failing to table the Jan Lokpal Bill in the Delhi Assembly. He recommended the dissolution of the Assembly, Kejriwal blamed the Indian National Congress and the Bharatiya Janata Party for stalling the anti-corruption legislation and linked it with the government's decision to register a First Information Report (FIR) against industrialist Mukesh Ambani, chairman and managing director of Reliance Industries. In April 2014 he said that he had made a mistake by resigning without publicly explaining the rationale behind his decision.
2014 General elections
Kejriwal campaigning in Maharashtra during the 2014 Lok Sabha elections
Kejriwal said in January, prior to his resignation as chief minister, that he would not contest a seat in the 2014 Lok Sabha elections. Party members persuaded him to change his mind, and on 25 March, he agreed to contest against the BJP prime ministerial candidate, Narendra Modi, from Varanasi. He lost the contest by a margin of around 3,70,000 votes.
Chief Minister of Delhi (second term)
Kejriwal led Aam Aadmi Party to win 67 of the 70 constituencies in the 2015 Delhi Assembly elections, leaving the BJP with three seats and the INC with none. In those elections, he was again elected from the New Delhi constituency, defeating Nupur Sharma by 31,583 votes. He took oath on 14 February 2015 as Delhi's chief minister for a second time at Ramlila Maidan. Since then his party has passed the Jan Lokpal Bill though with some differences.
There has been a long-running dispute between Kejriwal's office and that of the Lieutenant-Governor of Delhi during Kejriwal's second term as Chief Minister. Various issues have been involved, relating which office has ultimate responsibility for various aspects of government, including some significant public appointments. Manish Sisodia characterised it as "It is a battle between the selected and the elected" and indicated after a legal setback that the government was prepared to take the issues to the Supreme Court of India.
Mohalla Clinics that are primary health centres in Delhi was first set up by the Aam Aadmi Party government in 2015, and as of 2018, 187 such clinics have been set up across the state and served more than 2 million residents.he Government has kept a target of setting up 1000 such clinics in the city before 2020 Delhi Legislative Assembly Elections. Mohalla Clinics offer a basic package of essential health services including medicines, diagnostics, and consultation free of cost These clinics serve as the first point of contact for the population, offer timely services, and reduce the load of referrals to secondary and tertiary health facilities in the state. Beginning in October 2019, New Delhi began rolling out free bus transit for women on the Delhi Transport Corporation, with women traveling for free when using pink tickets carrying a message from Kejriwal He has been criticized for his controversial remarks over Biharis and "outsiders"
Shunglu Committee submitted a report to LG of Delhi raising questions over decisions of Government of Delhi.
Legal affairs
Arvind Kejriwal has had a controversial history of allegations, subsequent defamation cases against him. In several cases Kejriwal has unconditionally apologised after allegations have been found baseless in defamation cases in courts and then he has issued apology letters to several leaders on the same. It started with Kejriwal releasing his list of most corrupt politicians in January 2014 that included several leaders across the political spectrum. Of the several on the list, Nitin Gadkari immediately filed a defamation suit against Kejriwal. Kejriwal further made allegations against finance minister Arun Jaitley for irregularities in DDCA. This was followed by Arun Jaitley filing a 10 crore defamation suit against Kejriwal. In the meanwhile in 2016, Kejriwal made allegations against Bikram Majithia, then revenue minister of Punjab of involvement in drug trade for which Majithia filed a defamation case against him and two others from Aam Aadmi party. Kejriwal apologised to Majithia a couple of years later in March 2018. Subsequently, Kejriwal also apologised to union minister Nitin Gadkari for his unverified allegations and also sought apology from former minister Kapil Sibal Around the same time on 2 March 2016, Delhi High Court asked Chief Minister Arvind Kejriwal and suspended BJP MP Kirti Azad to file their written statements in a civil defamation suit of Rs 5 crores filed by DDCA for their alleged remarks against the cricket body regarding its functioning and finances. Following this in April 2018 Arvind Kejriwal and three others from his party including Sanjay Singh, Raghav Chaddha and Ashutosh apologised Arun Jaitley in a joint letter. In 2019, a criminal complaint was filed against him for his controversial comments on Biharis.
In his affidavit to Election Directorate before the second term elections in 2015 Kejriwal had declared that he has 10 criminal charges and 47 total charges against him.
Political views
Kejriwal discussed his views on corruption and the state of the Indian democracy in his book Swaraj. He advocates for a decentralisation of government and the involvement of the panchayat in local decisions and budgets. He claims that foreign multinational corporations have too much power in the decision making process of the central government and that the politicians at the Centre are not being held accountable for their actions and inaction after their election.
Personal life
In 1995, Arvind married Sunita, a 1993-batch IRS officer. She took voluntary retirement in 2016 as Commissioner of Income Tax in the Income Tax Appellate Tribunal.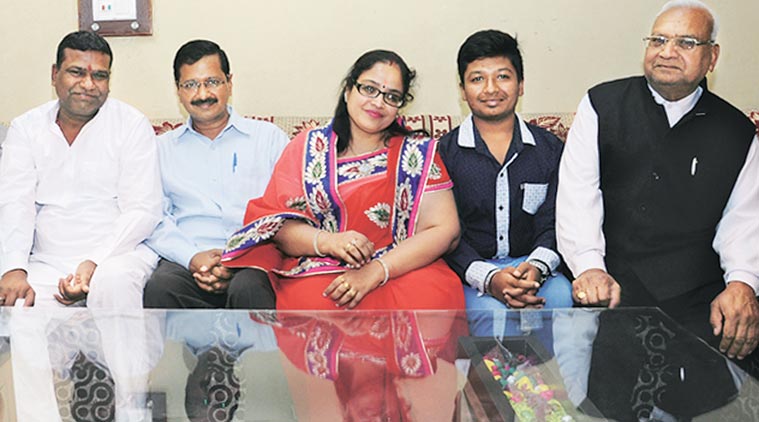 The couple have a daughter named Harshita, and a son named Pulkit. Kejriwal is a vegetarian and has been practising the Vipassanā meditation technique for many years. He is diabetic. In 2016, Kejriwal underwent a surgery for his persistent cough problem.